THE BEET : VOLUME 13, ISSUE 3
In this week's BEET:
This week's share
Recipes
The Plastic Problem
Resource recommendations
CSA Pickup Today 5-7:30pm
PS 56 at Gates and Downing (enter on Downing)
This Week's Share
Tho we didn't hear from Ted exactly what we will be getting, it will be similar to the past 2 pick-ups.  It will likely include:
Swiss chard
Scallions
Greenleaf lettuce
Arugula
Bok Choy
Kale options
Brocoli
Radishes
Potted Herbs
Quarts of strawberries (Fruit Share)
RECIPES
The Ultimate Kale Caesar Salad   (From Anne, your newsletter author)
As someone who LOVES Caesar Salad, and Kale Salads, I am always in search for the best one in town.    A good Caesar Salad is all about the dressing- and the croutons.  Making your own dressing and croutons will take this salad from an appetizer to a wonderful & filling main course.  After trying pretty much every recipe out there- and ordering them at most restaurants- I've combined a few to come up with the ultimate recipe.   Mine involves tofu croutons & roasted chick peas.  Taking away the bread (which has little nutrition) and replacing it with Tofu & chick peas (garbanzo beans), helps make this salad a complete protein, and much more filling.  I have served this salad to meat lovers, and kale-haters alike; and not only has there been NO complaints, but everyone always asks for more!
Serve with a chilled Shandy on a hot summer day!
(Shandy= 1 part pilsner beer + 1 part lemonade + ice + lemon wedge for garnish)
ULTIMATE KALE CAESAR SALAD (Serves 4 as a main course)
1 Head Dinosaur Kale
1 Medium Head Romain Lettuce
Grated Parmesan Cheese -1 Cup, or to your liking
Tofu Croutons & Roasted Chick Peas
1/2 Cup Dressing (or as much as you like- some people like their Caesar Salads quite heavily dressed)
TOFU CROUTONS & ROASTED CHICK PEAS
1 Block Extra Firm Tofu
1 Cup Chick peas
If you haven't worked with Tofu before, the most important part is pressing the tofu.  Before you start anything else- remove the tofu from the plastic carton, wrap it up with a CLEAN kitchen towel, and place on the counter with something heavy-ish on top- like a book, or a small skillet.  The idea is to press out a lot of the water, in order for the tofu to more easily absorb the flavors, and crisp up in the oven. (while it's pressing, you can prep the kale)
After 20 min or so, remove from towel and chop into 3/4" to 1/2" cubes.  Place in mixing bowl with the chick peas.
If you're using canned chick peas, be sure to thoroughly rinse them and let dry for a few minutes before putting in the mixing bowl.
Spice Mix
salt + lemon pepper
paprika -1/2 tsp.
cumin  -1/2 tsp.
pinch of cayane
Nutritional Yeast* -3 TBS. (if you don't have it, you can omit this, and add a dash of another spice you have on hand)
olive oil - 1 TBS
Braggs liquid Amino acids OR Tamari Soy Sauce 1 TBS
Mix spices and oil gently into the tofu and beans.  Evenly spread them out on a lightly greased baking sheet.  Try to make sure the tofus are not touching one another.  Bake in oven at 350 for 30-40 min.  About half way through- you will need to take them out and stir them around- making sure the bottoms don't stick and get cooked.  The Tofu should brown up, and shrink in size.  It will become quite crunchy, and quite similar to a bread crouton.  Once you take them out of the oven, it's best to let them cool for 5 min before putting them in the salad, so they don't wilt the salad greens.
NOTE:  Nutritional Yeast is a yellow flaky  yeast that enhances the flavors of the foods it is cooked with.  It has a slightly cheesy flavor, and is quite good for you.  You can usually find it in the bulk section of a well stocked super market- such as Fairway, or Whole Foods.
While the croutons are baking you can assemble the dressing and the rest of the salad:
Wash Kale, and finely chop.  I like to do one slice down the center of the leaf (to remove the stem) and then thinly slice the leaf horizontally- so you end up with a lot of thin kale ribbons.  The lettuce should be sliced in similarly sized pieces.  Put in large salad bowl and toss with the dressing, fresh ground pepper, and the grated cheese.  Sprinkle tofu croutons & roasted chick peas on top & serve!
DRESSING:
2/3 cup fresh lemon juice
1/4 cup extra virgin olive oil
1 tsp salt (pink Himalayan if you have it)
2 tsp Dijon mustard
2 tsp capers
1/2 half avocado
1 or 2 large garlic cloves
1/2 cup raw walnuts (soaked in water for 10 min)
2 TBS ground flax seeds (optional)
1 tsp kelp flakes (optional- they add a nice ocean flavor in lieu of anchovies)
Blend all ingredients thoroughly in food processor, until smooth and creamy.  Thin with water or more olive oil if necessary.   You can store extra dressing in the fridge for up to a week.
Have Extra Tofu Croutons?  Put them in this soup:
COCONUT BROCCOLI SOUP (from 101 cookbooks)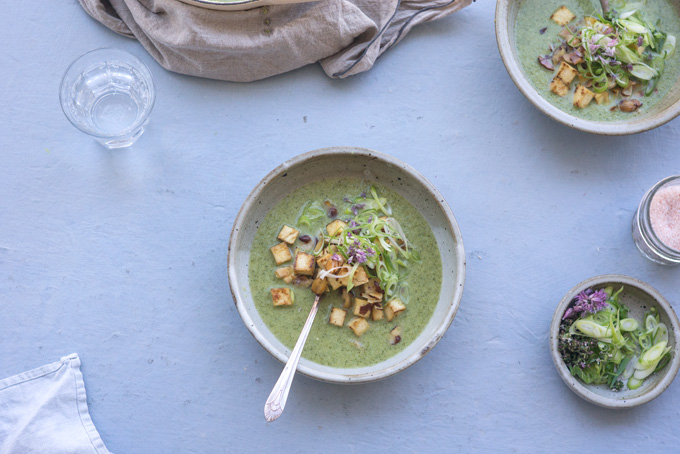 Because this soup has just a small list of ingredients, you want them all to shine. Look for deeply green, tight heads of broccoli. I typically avoid any heads that have yellowing florets or seem dried out.
3 cloves garlic, smashed
1 large yellow onion, chopped
1 small serrano chile, stemmed and chopped
2 teaspoons fine grain sea salt
4 1/2 cups water
2-3 large heads of broccoli (~1 1/2 lb.), cut into small florets
2-3 large handfuls of spinach
1 14-ounce can of full fat coconut milk
to serve: lots of pan-fried tofu cubes, toasted almonds, scallions, chive flowers (optional)
Scoop a big spoonful of thick coconut cream from the top of the coconut milk can. Add it to a large pan over medium-high heat. When hot, stir in the garlic, onions, chile, and salt. Sauté for a couple minutes, just long enough for everything to soften up. Add the remaining coconut milk, and the water, and bring to a simmer before adding the broccoli and spinach. Simmer just long enough for the broccoli to get tender throughout, 2 - 4 minutes. Immediately remove the soup from heat and puree with an immersion blender. Add more water if you feel the need to thin the soup out. Taste and add more salt if needed. Serve sprinkled with tofu cubes, toasted almonds, and lots of scallions.
Makes a large pot - 8 servings or so.
Prep time: 10 min - Cook time: 10 min
BREAKFAST, LUNCH AND DINNER QUICHE
I love quiche!  For any meal.  It has so many wins- you can make it ahead of time, it packs well for lunches, it's delicious both hot or cold AND it's a great way to use up odds and ends in the fridge!   For this recipe- I used swiss chard.  I find that 1 bunch of chard is usually the right amount for a quiche.  But you could also use kale, spinach, arugula, or even bok choy!
For a 8" round quiche pan:
5 eggs
2/3 cup rice milk (you can sub. regular milk OR water)
2-3 garlic cloves
1 cup sauteed greens, such as swiss chard
1 medium onion- sauteed & slightly caramelized
1/2 cup goat cheese crumbles (which you can purchase from the Lewis Farm Dairy add ons)
1/2 cup sauteed mushrooms (optional)
1 cup cooked small grains (quinoa, millet, cous-cous, or farrow)
chopped fresh herbs
salt & pepper
Preheat oven to 350.
Dice up the onion, and sautee on med-low heat in cast iron skillet until beginning to caramelize.  You can add a spoonful of sugar at the beginning, if you want a deeper flavor.  To properly caramelize- evenly spread out the onion on the pan, and keep over a lower heat for 20-30 min.  Only stirring once in a while to prevent sticking.  At this point, add the minced garlic and chopped greens, and cook for an additional 5 minutes.
While the onions are cooking you can prep the mushrooms and eggs.  Slice the mushrooms, and sautee in a separate pan, with butter.  Be careful not to crowd them in the pan.  Mushrooms cook best when they have some room to breathe.
Crack the eggs in a mixing bowl, and add the milk, salt & paper, and fresh chopped herbs.  Whisk rapidly for a few minutes to evenly combine the ingredients and get a little air into the mixture.
To assemble:  Lightly grease your quiche pan.  Evenly spread out the cooked grains on the pan.  Next, evenly layer the greens & onion mixture, then the cooked mushrooms, and then sprinkle on the goat cheese crumbles.  Lastly, slowly pour the egg mixture into the pan.  You can give it a few firm taps on the side- to make sure the egg mixture has evenly spread out, and is well combined in-between the fillings.
Bake in the oven for 30-40 min.  You will know that the quiche is done b/c the center will be firm and springy to the touch, and the sides will brown slightly and pull away from the edge of the pan.
Cool, serve, and enjoy!
The Plastic Problem
Plastic is all around us. It forms much of the packaging for our food and drink. For many of us, it is throughout our home, our workplace, our car, the bus we take to and from work. It can be in our clothing, eyeglasses, teeth, toothbrush, computers, phones, dishes, utensils, toys. The list goes on, especially when you look around and begin to notice the plastic in your life.
Plastic is versatile, lightweight, flexible, moisture resistant, durable, strong and relatively inexpensive. It can be chemical resistant, clear or opaque, and practically unbreakable. These are wonderful useful qualities, and plastic plays many important roles in life on Earth, but the widespread use of plastic is also causing unprecedented environmental problems, and harbours serious health risks – especially for children.
Many of us have been hearing about the negative health risks of BPS, and recently Mother Jones released an in-depth article, that covers what the dangers are, and goes into detail regarding the legal battle between plastic companies and the FDA.  The long and short of it is, that BPA is definitely dangerous.  And it has been proven that it leaches into food and water when used to store them.  This unsettling news begs the question- what about all the other chemicals that make up plastic?  Those are most likely just as dangerous, but due to the lobbying of the plastic companies, the FDA has thus far been un-able to do testing on those other chemical to determine their effects.
There is also the environmental problem.  Most plastics are not biodegradable, and end up in landfills, or in the ever-growing plastic island in the middle of the ocean.  It uses up a lot of non-renewable resources to make, and creates a lot of pollutants & greenhouse gasses to boot!
When thinking about all of this, it may seem overwhelming, but don't give up!  Knowledge is empowering, and we all have control over our own choices.  It's easy to choose to avoid plastic as much as possible- which may be different for each one of us.  Maybe start small- getting a metal or glass water bottle to reuse, or  choose to get rid of your Tupperware, and use only glass or metal for food storage.
A great website that has a lot more information on plastic dangers, and alternatives is Life Without Plastic.  Another one is: PlasticFree.
In our ever changing and growing world, it's easy to get overwhelmed, but you can always take solace in your own choices.  Choosing to support your local farms by being a part of this CSA is huge!  Keep choosing- choose to give up as much plastic as you feel comfortable doing, and feel good that you're lowering your carbon foot-print little by little.