THE BEET : VOLUME 13, ISSUE 6
In this week's BEET:
This week's share
Letter from Ted
Save The Date: Farm Tour!
Recipes
Storage Tips
Around Town
CSA Pickup Today 5-7:30pm
PS 56 at Gates and Downing (enter on Downing)
GOT EXTRA BAGS?  BRING THEM TO SHARE WITH OTHERS!
This Week's Share
Broccoli or Cauliflower

Collards or 'Redbor' Kale

Swiss Chard

Dill or Garlic Scapes

Slicing Cucumbers

Yellow or Zucchini Squashes

Beefsteak Tomatoes (not many – just starting)

Fruit shareholders : Yonder Farm's blueberries or apricots.
The skies just broke loose again. Every second or third day for the last couple of weeks we've experienced a downpour. In several instances the rain has amounted to two or three inches, and in one overnight storm over four inches fell.  When rain falls this frequently, and in such quantities, trouble ensues. Farm roads wash away, tractors get stuck, crop diseases set in, succession crops go unplanted, weeds grow unchecked, and crop nutrients leach away. Our soil is well-drained, however, and the crops we grow on it generally benefit from a slightly wetter-than-normal season. We also farm primarily on high ground, where flooding occurs infrequently. So far, our crops appear healthy, due in part to the beautiful sunny stretches between the downpours, and signs of disease are minimal.
Our chief challenge lies in weed management. Organic farmers trade chemical weed control for mechanical weed control. We use tractor-mounted tools to physically kill weeds, followed by hand hoes and, when all else fails, hand weeding. Weeds can be difficult to control in the best of conditions, and represent one of our highest costs of production. Much of what we do and why we do it has to do with one strategy or another for combating weeds. In choosing not to use pesticides, we leave ourselves particularly vulnerable to weed outbreaks in rainy weather. Weeds are nearly impossible to stay ahead of when wet conditions prevent our access to fields with tractor-mounted weeding equipment. We simply could not keep up if we weeded using just hand tools. But do not fear, we vegetable farmers are an optimistic bunch, and, although we are expecting a rainy start to the week, we'll likely get back into our fields by the end of the week, giving us yet another opportunity to set those weeds back before we are overwhelmed by them!
SAVE THE DATE!
The annual Open House at Windflower Farm: Weekend of August 23-24
All CSA members are invited!
RECIPES
WHITE GAZPACHO
(from Simple Fresh Southern by Matt & Ted Lee)
I made this soup last week- and it was the perfect thing to cool my boyfriend and I down after a long day at work.  It takes only about 20 min to make, and if left in the fridge, it's even better the next day!
3 medium tomatoes (about 1 pound)
1 small yellow onion, finely diced (1/2 cup)
2 heaping tablespoons finely chopped fresh cilantro (about 6 sprigs)
2 tablespoons distilled white vinegar, white wine vinegar, or champagne vinegar
Kosher salt to taste
Freshly ground black pepper to taste
4 medium cucumbers, peeled, seeded, and cut into large dice (about 3 cups)
2 small jalapeño chiles, seeded and finely diced (about 2 tablespoons)
2 cloves garlic, minced
1 cup vegetable broth, homemade (page 104) or store-bought
2 cups plain yogurt
1. Set a strainer over a medium bowl. Core the tomatoes, cut them in half crosswise, and using your pinkie finger, tease the seeds out of the cavities, letting them drop into the strainer. Tap the rim of the strainer against your palm for 30 seconds, until most of the flavorful gel clinging to the seeds dissolves and drips into the bowl. Discard the seeds.
2. Finely dice the tomatoes and transfer them to the bowl with the tomato water. Add the onion, cilantro, and vinegar, and toss. Season the salsa to taste with salt and black pepper, and refrigerate it. (Salsa will keep 3 days in the refrigerator.) Place the soup bowls you intend to use in the refrigerator, too.
3. Combine the cucumbers, chiles, garlic, vegetable broth, and yogurt in a food processor, and pulse until smooth. Season to taste with salt and black pepper, and chill for at least 30 minutes and up to 3 days.
4. Divide the soup among the chilled bowls, and garnish each serving with a couple spoonfuls of the salsa.
 QUICK PICKLED ZUCCHINI
(from 101coocbooks blog)
There are quite a number of ways to play around with the personality of these pickles. Sometimes I shave the zucchini paper-thin, resulting in a whispy tangle of pickled zucchini and onions. Other times I want my pickles to have a bit more bite, structure, and definition. In those instances, I slice the zucchini thicker, perhaps 1/8-inch, and let them drain as long as possible, sometimes overnight refrigerated. Also worth noting, when I make them for our personal condiment stash, I used a brown natural cane sugar. It gives the pickle liquid a brownish cast that, quite frankly, weirds people out if they don't know what is causing it. So, if I'm making the pickles to bring to a BBQ or something, I'll make them with regular organic cane sugar - one that is lighter in color.?3 medium zucchini (1 pound / 16 oz / 450 g), thinly sliced?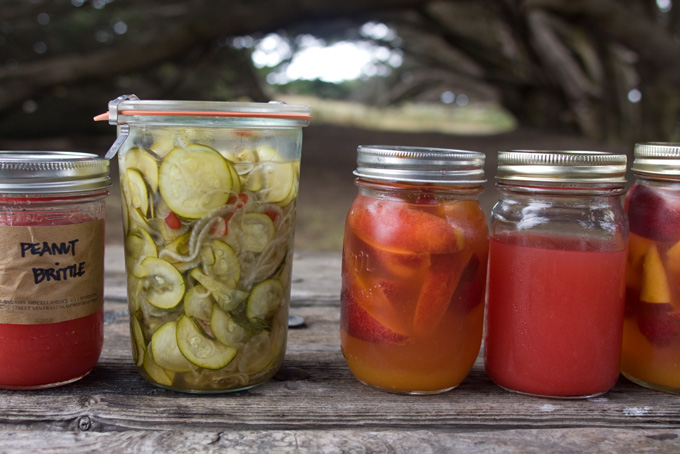 1 medium white onion, thinly sliced
3 shallots, thinly sliced
1 1/2 tablespoons fine grain sea salt
1/4 cup (small handful) fresh dill sprigs
1 small fresh red chile pepper, very thinly sliced
1/2 tablespoon yellow mustard seeds
?3/4 cup / 180 ml cider vinegar
3/4 cup / 180 ml white wine vinegar
1/3 cup / 1.75 oz / 50g natural cane sugar
Toss the zucchini, onion, shallots, and salt together in a colander and place over a bowl to catch the liquids. Cover the bowl and refrigerate for at least a couple hours. Toss once or twice along the way. You're aiming to get as much liquid out of the zucchini as possible.??When you're finished draining the zucchini, shake off any water. At this point you want the zucchini as dry as possible. Place in a 1 liter / 1 quart jar along with the dill, chile pepper, and mustard seeds. Alternately, you can cram them into a 3/4 liter Weck jar like I do, but it's always a bit snug in the jar.
Combine the ciders and sugar in a small saucepan over medium heat. Bring to a simmer, stirring until the sugar dissolves, and continue to boil for a few minutes. Pour the liquid over the zucchini and seal the jar. Let cool, then refrigerate. The pickles are good for a week or so.
Makes one large jar.
Prep time: 120 min - Cook time: 5 min
STORAGE TIPS:
TOMATOES:
Tomatoes are surprisingly delicate, we've discovered! Harold McGee in his book On Food and Cooking explains that refrigerating tomatoes damages the membranes inside the fruit walls, causing the tomato to lose flavor and develop the mealy texture we associate with mid-January grocery store tomatoes.
So the best place to store tomatoes is, indeed, on the counter top at room temperature. They actually continue to develop flavor until maturation peaks a few days after picking.
If you (like us!) have been keeping your fresh tomatoes in the fridge, try letting them sit out at room temperature for a full day before eating them. McGee says that some of the enzymes will re-activate and boost the flavor back up.
CUCUMBERS:
According to a post at Root Simple, cucumbers should be stored at room temperature – not in the refrigerator.  Root Simple cites the University of California, Davis, which determined that cucumbers are sensitive to temperatures below 50°F and may develop "chilling injuries" including water-soaked areas, pitting, and accelerated decay. If you must refrigerate your cucumbers, limit it to 1-3 days and eat them as soon as possible. (We'd also suggest keeping them off the bottom shelf, which is usually the coldest)
In addition, cucumbers are highly sensitive to ethylene and should be kept away from bananas, melons, and tomatoes, in particular.
(from thekitchn.com)
AROUND TOWN
Market Tours: SAHADI'S BROOKLYN'S DESTINATION MIDDLE EASTERN MARKET
(from SeriousEats)
187 Atlantic Avenue, Brooklyn 718-624-4550
Sahadi's is without a doubt one of the city's best markets, an unbelievable collection of everything Middle Eastern and beyond. "Sahadi's is a Middle Eastern market wonderland," frequent shopper says, "there are just no adequate words to describe it."
Like at Kalustyan's in Manhattan, it's easy to get lost in the aisles amidst 150 types of cheese, olives of all kinds, nuts, spices, grains, coffee, deli goods, yogurt, sweets...you get the idea.
It's the keystone fixture of a stretch of Middle Eastern groceries, bakeries, and restaurants on Atlantic Avenue, which the storefront has called home for over 50 years (the original store was founded in Manhattan in 1898). Walk inside and you're instantly transported: the bustle, the lines of shoppers holding numbered tickets waiting for a staffer to fill their bags with bulk coffee and nuts, the dairy tang of labne that wafts from the deli. You don't shop at Sahadi's; you experience it, and if that means it takes longer than your average shopping trip to navigate the aisles and wait for your gallon of excellent creamy hummus to be packed up, that just gives you more time to drink it all in.